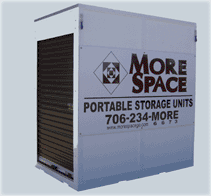 MoreSpace Mobile will transport our sturdy, all-weather mobile storage units right to your door or loading dock. Once packed, we'll bring them back to our secure, climate-controlled facility. All of our facilities are centrally monitored for any unauthorized entry, and are equipped with smoke detectors and video recording monitors. You can have all your portable containers or individual items redelivered to your location as needed, or you can access them 7 days a week in our facilities climate controlled space.
All types of businesses regularly require additional storage space. Whether its files and records, excess equipment, furniture, seasonal items, or temporary inventory, things inevitably pile up and take up limited and valuable space.
MoreSpace Mobile Units can help free up your expensive real estate with our mobile storage units, meaning you can put it to better and more profitable use.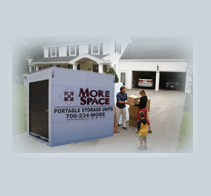 Good news! MoreSpace Mobile offers a much better alternative to conventional storage facilities. First, we deliver an attractive storage container for you to fill. Then, we pick it up and store it (or them, as the case may be) safely in our secure storage facility. Your belongings are triple safe – inside your container, inside our self-storage facility, inside our gated complex.
Other benefits include:
You decide what and how it's put away
You only have to pack, load and unload once, which eliminates a lot of work!
You pack it at your home, we take it away when it's convenient for you
Your belongings are secured
You can access our storage facility at your convenience
You can add storage as you need it down the road
You have smaller container options which can amount to bigger savings